About Us
Our philosophy is simple. For 6,000 years Mother Nature has proven she knows best. When it comes to nutrition, Organic foods are nature's whole, pure, and complete foods. We offer you that natural choice from nature's finest foods.
Our products are made of Organic ingredients. Each ingredient is selected for its vitamins, minerals, and amino acids, as well as other nutrients required for your animal's health and performance. The ingredients do not contain or require preservatives and provide nutrition as good as it gets naturally.
• Made with organic ingredients selected to create a nutritional supplement free of toxic chemicals.
• Food-based, absorbable nutrition replaces synthetic, chemical-laden, animal-quality products.
• No toxic residues from chemical nutrients and preservatives found in conventional supplements.
WINNIES COOKIES
Winnie's Cookies are made from organic ingredients selected for their 22 vitamins, trace minerals and amino acids, creating a nutritional supplement. Because the nutrition in Winnie's Cookies is food-based, your horse's digestive system and biochemistry can utilize 100% of the vital nutrients with complete efficiency — with up to 35 times more nutrition per serving! Feed costs can be reduced up to 50% because Winnie's Cookies help to detoxify the digestive tract in 60 days, making the gut more efficient in assimilating calories.
Because Winnie's Cookies contain no preservatives, they are not stocked on store shelves. Your custom order will be handmade, baked fresh and shipped directly to your home or barn. And you select the delivery schedule! This is the only nutritional system that guarantees no chemicals from farming, processing, and/or preserving.
INGREDIENTS: Whole wheat, corn, barley, triticale, millet, rye, wheat bran, flax seed, alfalfa seed, dulse, unsulphured molasses, blackstrap molasses, filtered water.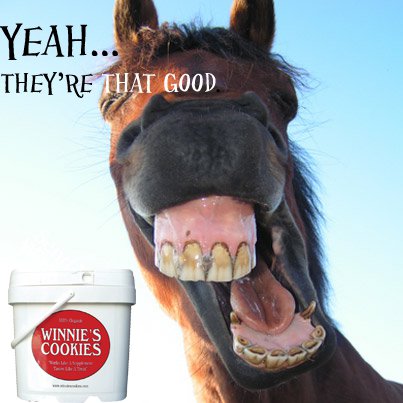 An organic flexion product for the healing of cartilage, tendons and joints
WINNFLEX
• Contains human-grade glucosamine sulfate, MSM, and yucca — proven active ingredients for the healing and development of healthy cartilage, tendons and joint fluids
• Pure, organic, premium quality, food-based nutrients for maximum absorption and utilization of the active ingredients
Glucosamine sulfate has a proven ability to improve deteriorating joints, strengthen weakened and damaged tendons, and ease arthritic inflammation and pain. Necessary in the production of collagen and the formation of tendon, joint and articular cartilage, glucosamine sulfate also improves synovial fluid production. Glucosamine has been proven to be more easily absorbed than chondroitin sulfates.
WinnFlex also includes MSM, which aids oxygen delivery to the body tissues. WinnFlex also includes yucca, which is known for its anti-inflammatory benefits and for its ability to assist in the body's production of lubricating fluids.
WinnFlex is uniquely formulated for maximum utilization of its active ingredients. The glucosamine sulfate is pharmaceutical quality and five to six times more active than the animal grade counterpart used in many other products.
WinnFlex is the only flexion product on the market to use pure organic, premium quality, food-based nutrients to supply the critical vitamins, minerals and amino acids that are essential to promote the absorption and utilization of the active ingredients.
WinnFlex requires a three- to four-week build-up period. Benefits and pain relief begin at onset of usage and increase with use.
WINNMARE
For vitality, productivity, calm attitude

A formulation of organic herbs and vegetables designed to:
• Enhance the immune system • Tone the reproductive system
• Balance the hormonal system • Calm the nervous system
The herbs found in WinnMare have been used for centuries to prepare broodmares for breeding and foaling as well as to help calm irritated, nervous mares during their estrous cycle.
Echinacea Purpurea provides the most immune enhancing properties available while Red Raspberry leaves tone the reproductive organs and aid in hormone balance. WinnMare uses only the most aromatic and therapeutic German Chamomile to calm nerves, improve digestion and soothe aching muscles. Unlike the herbs used in many other products, the herbs in WinnMare are hand-picked and sun-dried, not radiated — making them more valuable nutritionally. All ingredients in WinnMare are top quality, premium-grade organic foods.
MANELIFE
Organic food for hair and mane
• Increases growth and stops splitting while the organic oils and herbs condition and detangle
ManeLife is a natural alternative to hair products on the market today that are laden with toxic chemicals. Essential oils comprise every plant's aroma, color, odor, taste and medicinal qualities. ManeLife's jojoba oil is very light and absorbs quickly into the hair shaft, helping to deliver vital nutrients. Vitamin E is well known for its ability to protect hair and skin balance, as well as repair damaged cells and tissue. The rosemary, sage and thyme in ManeLifestimulate hair growth and provide vital nutrients to the hair shaft and follicles.
There are no products listed under this category.